On Tuesdays With Morrie by Mitch Albom.
About "Tuesdays With Morrie"
Morrie Schwartz was a college professor who taught author Mitch Albom. After graduation Mitch lost touch with Morrie. They reconnected 20 years later after Mitch saw an interview with Morrie on Nightline talking about his diagnosis with Lou Gehrig's disease. Mitch started flying out to visit Morrie every Tuesday in the last few months of his life. Over the fourteen or so visits he had with Morrie he was once again a student, this time being mentored in how to start living.
Mitch made a list of things to discuss with Morrie during their visits so Morrie could share his learnings as he battles with his disease and contemplates lessons from his life. They spoke about the world, feeling sorry for yourself, regrets, family, emotions, fear of aging, money, how love goes on, marriage, culture, forgiveness, the perfect day and finally saying goodbye. Mitch wrote this book to help Morrie pay his medical bills – neither imagined how large the legacy would become, affecting and moving millions of people around the world.
Quotes & Lessons from "Tuesdays With Morrie"
There is no such thing as 'too late' in life.
I give myself a good cry if I need it, but then I concentrate on all good things still in my life.
Love wins, love always wins.
Everyone knows they're going to die, but nobody believes it. If we did, we would do things differently.
There is a big confusion in this country over what we want verses what we need…you need food. You want a chocolate sundae.
We all have same beginning (BIRTH), and we will have same ending (DEATH). So how different can we be?
The most important thing in life is to learn how to give out love, and to let it come in.
What she mostly wanted, he learned, was the same thing many people want–someone to notice she was there.
[In Morrie's early work and time observing psychiatric patients and their treatments, there was one woman who would just lay on the floor every day, ignored by everyone. Morrie was able to get her to sit up and go back to her room.]
The culture we have does not make people feel good about themselves. And you have to be strong enough to say if the culture doesn't work, don't buy it.
Mitch Albom Speech 2007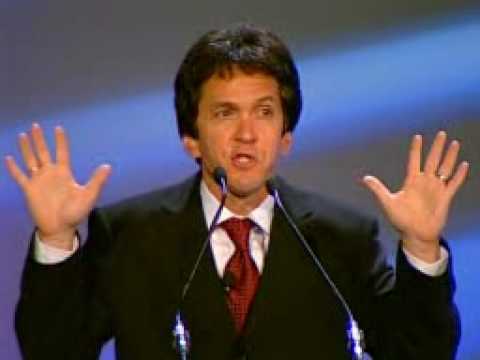 Morrie's Interviews with Ted Koppel
Watching these interviews with Morrie after reading the book have for me added to the impact of the book. Morrie is a real person struggling with a very debilitating disease and it is this reality and his willingness to frankly talk about all of it that leaves the deepest impression on the viewer.